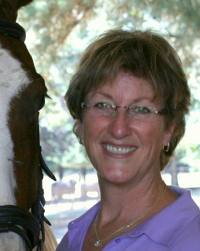 Roxy has always been an artist.  Just ask her mom about the scribbles she drew on the wall when she was 3 years old. That was her Crayon Creation Event and mom was not too happy.
Times have changed but Roxy's creativity hasn't.  Even though her earliest drawings were created using crayons, chalk, pens, paint, or whatever she could get her hands on, these days she prefers mechanical pencils.
"They allow me to get into the tiniest details, which is my passion.  Details often make other artists crazy but not me.  The tinier the detail the better I like it."
Roxy is a real stickler for details which shows in her work.  Each drawing takes 1 – 2 months to complete.  She puts her best effort into getting the texture and the tiny details exactly right.
For her, the most intriguing part of drawing horses is getting the shadows, the highlights, the buckles, the notches and crinkles in the leather, the crisscross of the hair to look real.  Drawing texture plays a big role, too, when using pencils but she says one of the biggest challenges is telling the eye to interpret color with variations of gray.
Horses are her favorite source material.  Dressage, jumpers, western, cutting, or reining horses, she loves them all.  She says,
"If it has a horse in it, I've always been a fan."
Even with that love of horses her art often leads her to other interesting subjects too. Whatever the focus, she wants her art to spark a memory or share a story and invites the viewer to step into the picture with her.
Not only does Roxy enjoy drawing but she is an accomplished ceramist as well.  She's had the good fortune of a lifetime of learning ceramics from her mother who is well known in the ceramic industry.  Together they have created a blending of the two art forms; ceramics and pencil drawings, and are in the process of making a select few drawings available as ceramic tiles.  These will soon be available in gift and jewelry boxes.  More info will be coming!